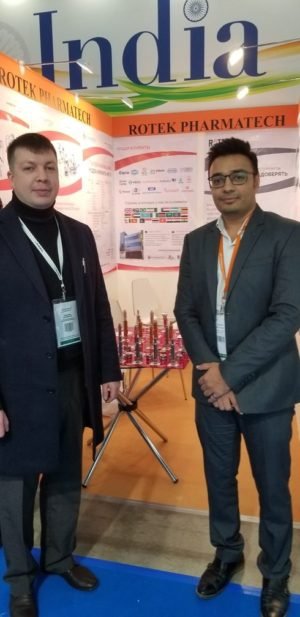 21st International Exhibition of Equipment, Raw Materials and Technologies for Pharmaceutical Production «Pharmtech & Ingredients 2019» was held on November 19-22 in Crocus Expo IEC (Moscow); this exhibition was attended by the specialists of JSC "Universal Pravo" under the guidance of the Head of development department, Alexander Vladimirovich Ksenofontov.
Two pavilions of the exhibition presented the numerous manufacturers of laboratory equipment, raw materials and technologies. Participants of the exhibition showed their great interest to the registration of medical devices – especially this question was interesting to foreign manufacturers of medical devices from Germany, France, Spain, Poland etc. Also, this year the exhibition was visited by large number of manufacturers of medical devices from India, where the production of laboratory equipment is closely related to the manufacture of surgical medical devices. Apart from this, a round table was organized for the "Transfer of the technologies: best practices of Russian and foreign manufacturers", in which the competent specialists in the area of inspecting the manufacturers, negotiation with state bodies, technologies of innovative medicinal products etc. took part, and the "Pharmtechprom" forum provided the actual information and free communication between the participants and visitors of the exhibition.
Altogether, the exhibition was successful, the Head of the development department of JSC "Universal Pravo" A.V. Ksenofontov familiarized the participants with the procedure and conditions of registration of medical devices in Russian Federation, including new requirements from EAEU, and made new business contacts.